Happiness comes in all shapes and size, so do our books.
9" x  11"
(Medium Landscape)
12" x  15"
(Large Landscape)
LITE books
Your search for the perfect coffee table book ends here.
Introducing the clean, light weight and minimal book crafted to make your photographs everlasting.
Book Options
Signature Books come in two printing options
Press Books
Printed on heavy gauge 300 GSM paper with Digital Offset Printing Technology, these digital prints bring out the most faithful color reproduction from your images. They are designed to lay completely flat and can bind up to 50 sheets.
Flushmount books
Printed on premium photographic paper using Digital Silver Halide technology, the Flushmount books personifies perfection. These books bring out the best colors. The book showcases images seamlessly spread across the page, thus creating a truly amazing visual experience.
Magnum Albums
Magnum books are printed using an 8 color high resolution inkjet print process which helps preserve the finest texture, retain subtle shadow & highlight transitions and the most accurate color rendition.

 
This confers to the highest standards of museum
 quality fine art printing, now available in an album.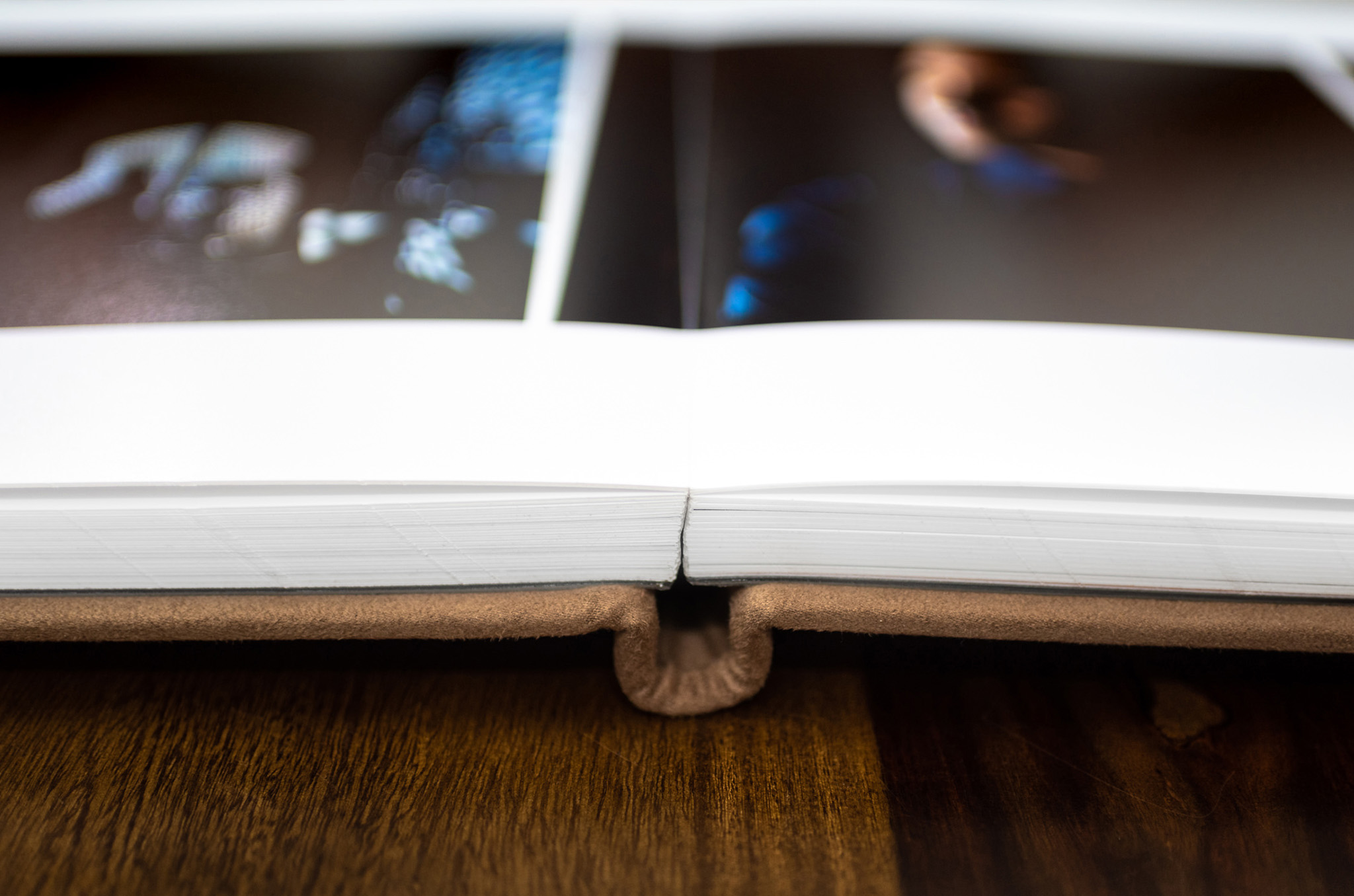 Cover Options
Judging a book by its cover, We've got two amazing options for you.
Image Wrap Books
An edge to edge printed image on the cover, along with a dust jacket gives you all the kinds of options to experiment with and bring out the best for your wedding book.
Leather Bound Books
Bound with beautiful textured leatherette, the book comes with two window options; A die cut window, where we have an inset image with title of the book or with a metal engraved plate. They are also available in different color variants to choose from.
The Details
Designed with Thought
Printing and Binding
All our books are printed with the best printing process and materials
Stain Proof Sheets
Available in Matte and Gloss
Little Things Matter
Little touches that personalizes the album for every bride and groom.
Custom Message Card
Spec Sheet with your Contact Info
QR code and Web link to the album
All with your Logo and Signage
Branding & Packaging
We don't brand the books, you do. This comes from your production house.
We add your logo to the back of the Book
All albums come with exquisite packaging
A personalised message to the Bride & Groom
Functional and elegant packaging design
Lifetime Warranty
Our books are made to last forever.
Online Reviews
Review your design with 2 rounds of free feedback.
Fast Delivery
Shipped to you in 4 days or less.
Eco Friendly
Made with elemental chlorine free paper and recyclable materials.
Signature Coffee Table Books Designing
Redefining the Wedding Book
Book Design Samples
Beautiful well balanced layouts. Use the arrow keys on the left and right to view the slide show.
Click below to view more Sample designs
Thoughtful Design
Each of our coffee table book tells a story, and with every wedding there is a very special story to be told. We draw the viewer to the moment, captivating them visually and emotionally. If you are a discerning photographer, you will notice that our coffee table book design are individually crafted to perfection – nothing overlooked.
Steering the Eye
Composition, and the skilled use of the positive and negative spaces brings the wedding album design to life.
Pacing and Rhythm
In our wedding album designs, the order in which the images are sequenced is given due diligence. The meaning of an image is altered by placing one picture against another so very careful choices are made.
Balance and Symmetry
The dark and big images are considered heavier, while bright and small photographs are considered to be lighter. We design coffee table book layouts to bring about harmony and symmetry with such images.
Telling a Story
 Combining images gives the wonderful opportunity to tell a story. Intelligent organisation, sizing and positioning of all the photos  in concert with each other.
Flow and Consistency
The Ebb and Flow of the activities taking place on the wedding day are reproduced. The entire book has a single consistent theme.
Colors and Typography
Color temperature creates mood and spatial effect. The right Type, Font, Kerning and Size are chosen to define the mood of the layout.
Wedding Album Design and Print
Minimum order : 20 layouts.
Send us your RAW images to have your book designed and printed with processed images.
Send us your processed images as High Res JPEGs to have your book designed and printed.
Send us your images to have your books designed as per your requirements.
FOLIO box
 A wonderful way to store your prints
12 Photos
Hard mounted prints. Rich and accurate colors.
Coffee Beans
come complimentary with the folio box.
Beautiful box
handcrafted with love and care.
Pricing
The Signature Books are fairly valued keeping a good design and paper quality in mind.
Photographers
Ease out your workflow. Request for a quote below. 
Couples
Print a beautiful Book for your big day. Request for a quote below.